A refined and simply elegant landmark, Tan Da Court is a distinctive feature amidst the city's thriving hub of China Town's enticing foods and alluring markets. Situated at the corner of Tan Da and Nguyen Trai Streets, Ho Chi Minh City, Vietnam, a prime location between two very popular business districts, District 1 and District 5, your neighborhood is only a short distance from the Airport and City centre and with a proposed future infrastructure that will shorten your travelling time, this is definitely a strategic to enjoy the prosperity of this city.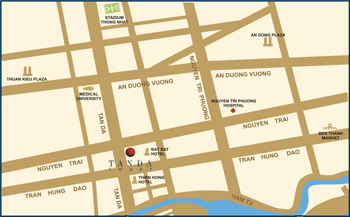 Click to enlarge
Biding Chinese Feng Shui Master guidance, Tan Da Court is nurtured using time honored 'feng shui' principles, harmonizing the features of natural landscape and built environment. Determining and recognizing the most favorable locations to profit our life, our dwellings- and your prosperity.
---
BAGUA
The basic ba (eight) gua (area) is a map of the energy world. It is traditionally shown as an octagon with 8 sections surrounding a central area, the tai chi. The positioning of Tan Da Court complex corresponds positively with the bagua diagram. The Commercial Plaza main entry faces the 'Wealth' orientation and 'Family' orientation for the apartment entrance.